BOSE QuietComfort QC35 II Wireless Bluetooth Noise-Cancelling Headphones
Product features
Over-ear headphones: surrounds the ear
Compatible with all smartphones
Features a microphone & volume control
Detachable cable
Google Assistant built-in
Top features: 

- Built-in Google Assistant lets you control your headphones with your voice

- Bluetooth headphones stream music from your smartphone wirelessly

- Active noise-cancellation for truly immersive listening

- Built-in battery lasts up to 20 hours per charge

- High quality design for comfort and durability

Built-in Google Assistant Control your headphones with your voice thanks to Google Assistant built-in to the Bose QuietComfort QC35 II Wireless Bluetooth Noise-Cancelling Headphones. Press and hold the action button and let your assistant know what you want to do – play music, adjust the volume, you can even receive texts and ask questions.

Bluetooth headphones

Bose QuietComfort QC35 II deliver a high quality audio experience directly from your smartphone or tablet, completely wirelessly using Bluetooth or NFC.

Bose's impeccable sound always ensures you hear audio at its best, and with a volume optimised equaliser whatever you're listening to sounds great whether it's quiet or loud.

Download the free Bose Connect app to your smartphone for extra control and features – manage connections, share your music and more.

Active noise-cancellation

Immerse yourself in music with the Bose QuietComfort Headphones. They have active noise cancellation, and it's adjustable so you can set it to suit your listening environment. Block out everything on a busy train and relax into your daily commute, or switch it off to stay alert.

Built-in battery

With a built-in battery that lasts up to 20 hours per charge, your headphones will easily last throughout the day – and into the night. If they do happen to run out of power, you can still listen with the included cable - just connect to your device and they're instantly ready to use.

High quality design

Built to last and built to feel great, the Bose QuietComfort Noise-Cancelling Headphones are the perfect mix of functionality and comfort. Tough materials such as stainless steel and glass-filled nylon add strength, while luxurious Alcantara on the earcups is a joy to wear.

The best from Bose.
Now with the Google Assistant built in.
QuietComfort wireless headphones II are engineered with world-class noise cancellation. And now they're even better. With the Google Assistant built in, you can play music, receive texts and get answers without glancing at your phone.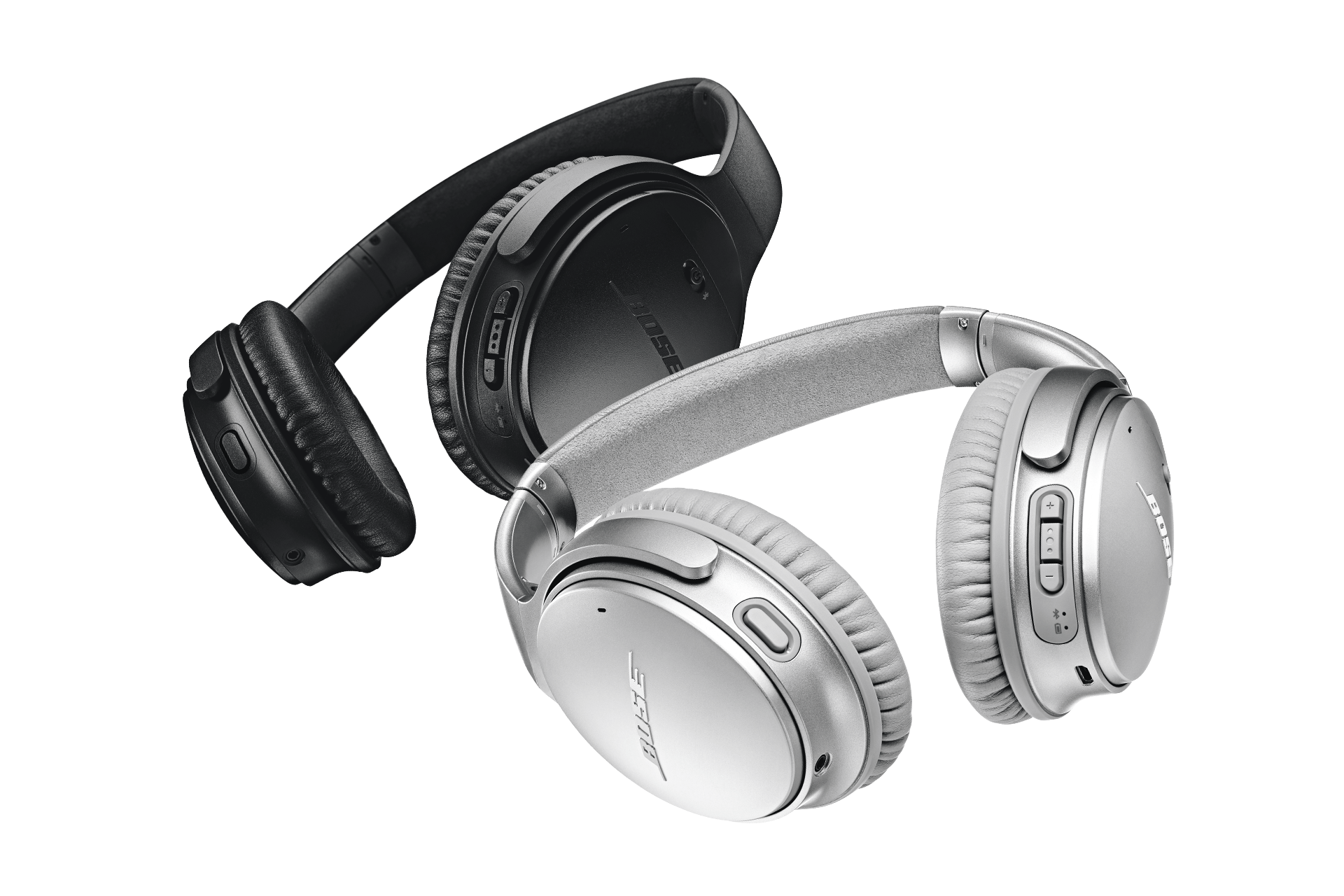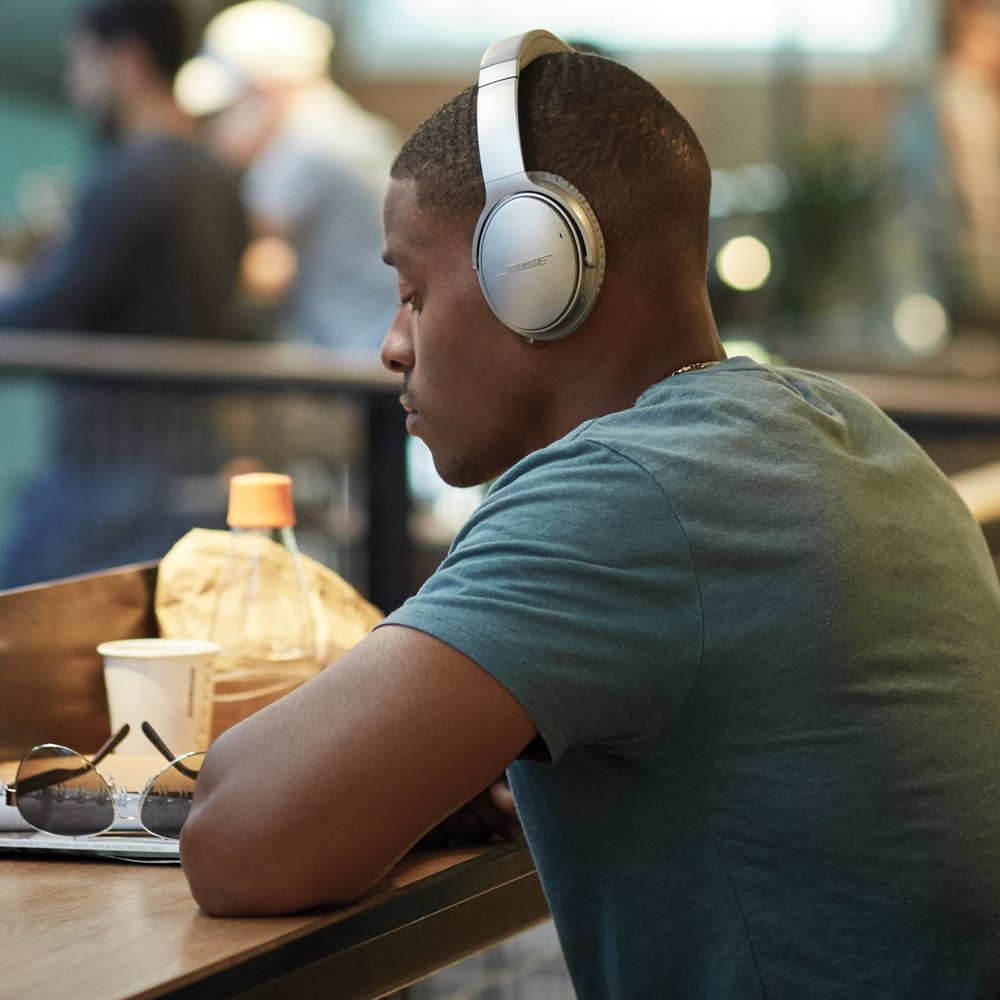 BUILT BETTER
When you want to take your music anywhere, you need headphones built to keep up. With impact-resistant materials, glass filled nylon and corrosion resistant stainless steel, they're engineered to survive life on the go. But when you take them everywhere and listen all day, they have to be comfortable, too. That's why the QC35 headband isn't just soft, it's luxurious. Wrapped in Alcantara®—the soft covering material used in yachts and high end automobiles—it provides a welcome comfort designed for all-day listening. And the plush ear cushions are manufactured from a synthetic protein leather, so it won't even feel like you're wearing headphones.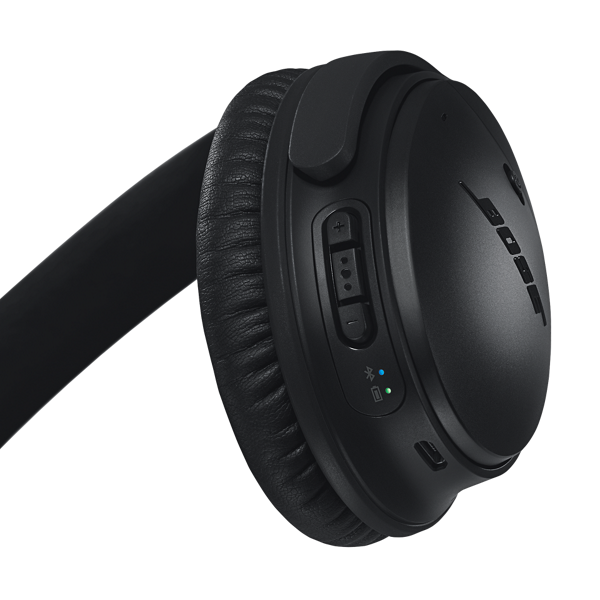 20 Hours
battery life
Enjoy up to 20 hours of listening, enough time to pore through this entire playlist. And when it finally runs down, a quick 15-minute charge gives you another 2.5 hours. For that rare time when you do get caught without battery, use the included cable to plug in and keep the music playing.