NEATO Botvac Connected Robot Vacuum Cleaner - Black
Product features
Robotic vacuum cleaner
Smart Navigation
0.7 litre capacity
Charging base
Top features: 

- Take control of the robot cleaner using the Neato app

- D-Shape design makes it easy to clean those hard to reach places

- Long-lasting rechargeable battery with a charging base

Take control

The Botvac Connected can be programmed using the Neato app on your smartphone or tablet. With the app you can start the robot cleaner from wherever you are, schedule daily cleanings and receive notifications.

D-Shape design

Designed to clean effectively close to walls and deep into corners, the Botvac Connected delivers super suction on all floor types. Using precise LaserSmart Navigation, the robot cleaner scans, maps and methodically cleans the floors of your home.

Its ability to pick up pet hair makes it ideal for pet owners and allergy sufferers, helping to keep your home clean.

Eco mode delivers a longer, quieter clean which helps you to save energy, while the Turbo mode provides a powerful cleaning performance with higher suction power.

Long-lasting rechargeable battery

The Botvac Connected features a long-lasting rechargeable Lithium-ion battery, meaning that you can leave it to clean your floors with confidence.

For added convenience, the robot cleaner automatically returns to its charge base when it runs low on energy. It will then return to where it left off to finish the cleaning.
Neato Botvac Connected DC02
The Ultimate Navigating Wi-Fi Connected Robot Vacuum
Overview
Features a Wi-Fi enabled robot that lets you control your Neato robot from wherever you are. The Neato app makes everything easier- set a schedule, set your robot to clean from wherever you are, clean your whole house, or choose spot clean (and even choose to cover the area twice for extra cleaning), stop or pause the robot, and get instant notification about the status of your vacuuming run. Includes both the combo brush and spiral blade brush. Two cleaning modes - Eco mode for a quieter, longer cleaning run, Turbo mode for a super powered cleaning with maximum pickup. Also includes the new ultra performance filter which is easy to pop out and includes extra filter screen making it easier to clean. Our most powerful robot yet. Neato app works with iOS and Android devices. See specifications for more details.
What's in the Box
Wi-Fi Enabled Robot Vacuum
Integrated Charge Base
Power Cord
Spiral Blade Brush
Combo Brush
Ultra Performance Filter
Side Brush
Boundary Markers
Brush and Filter Cleaning Tool
Coverage Maps
See where your Neato robot has cleaned.

View cleaning history from the last 21 cleaning runs.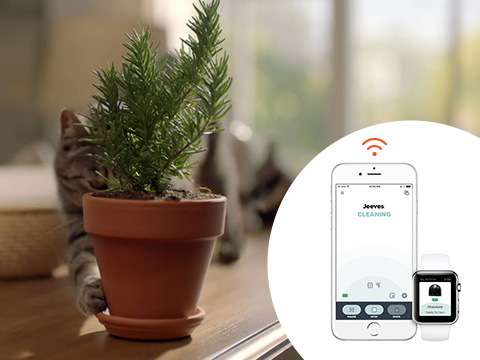 WiFi Connected for Ultimate Control
Use the Neato app to clean your floors from wherever you are. Start, stop, pause, schedule, and receive notifications on the go.
LaserSmart™ Mapping & Navigation
Advanced laser floor plan mapping and navigation means a deep, thorough, methodical cleaning in less time with incredible digital precision.
D-Shape with CornerClever ™ Technology
Exclusive D-Shape with CornerClever technology destroys dirt where it hides — in corners and along walls. Round robot vacuums simply are not up to the task.
Eco & Turbo Cleaning Modes
You choose. Eco gives a longer, quieter energy-saving clean. Turbo provides a super-powered cleaning - with maximum hair pickup. Picks up dirt, dust, pet hair, and more with its high suction power.
SpinFlow™ Power Clean
SpinFlow technology combines potent suction and precision brushes to leave floors immaculately clean. Dirt will never know what hit it.
Additional Features:
D-shape with CornerClever(TM) Tech
SpinFlow Power Clean
LaserSmart(TM) Mapping & Navigation
Cleaning Summary with Coverage Maps
Self-charging & auto-resume
Multi-room navigation
Scheduling
Combo Brush & Spiral Blade Brush
Side Brush
High Performance Filter (3)
Boundary Marker